Complete Saudi Arabia
Complete Saudi Arabia
9 days - 8 nights
Riyadh, Ha'il, Jubbah, Al Ula, Mada'in Saleh, Tabuk, Neom, Hisma
Discovery, Archeology, Culture, History
This program can be extended and may be operated for individuals, pods and groups
Riyadh, the Saudi capital is home to some palaces and fortresses to absolutely discover, like the Main Palace of Saad bin Saud, the fortress of Masmak, the ruins of Dir'aiyah. Fans of wide-open spaces and ancient architecture should not miss the ancient Nabataean city of Madain Saleh (Madahine-Saleh). Not to be missed either: the city of Hail, a popular destination since you can discover the palace of Qishlah, the Al-Qashalah fortress, the 'Airil fort, the Hail Museum and also its souk. A true national treasure, the Madain Saleh site is the tourist attraction not to be missed during your trip to Saudi Arabia! Jebel Al-Lawz is in the ancient land of Madyan where the Prophet Moses lived for ten years with his father-in-law the Prophet Shu'ayb and where he brought his people that fled Egypt. Some consider Jebel Al-Lawz to be the real Mount Sinai where Moses had a mythical experience with God, as mentioned in the Holy Quran.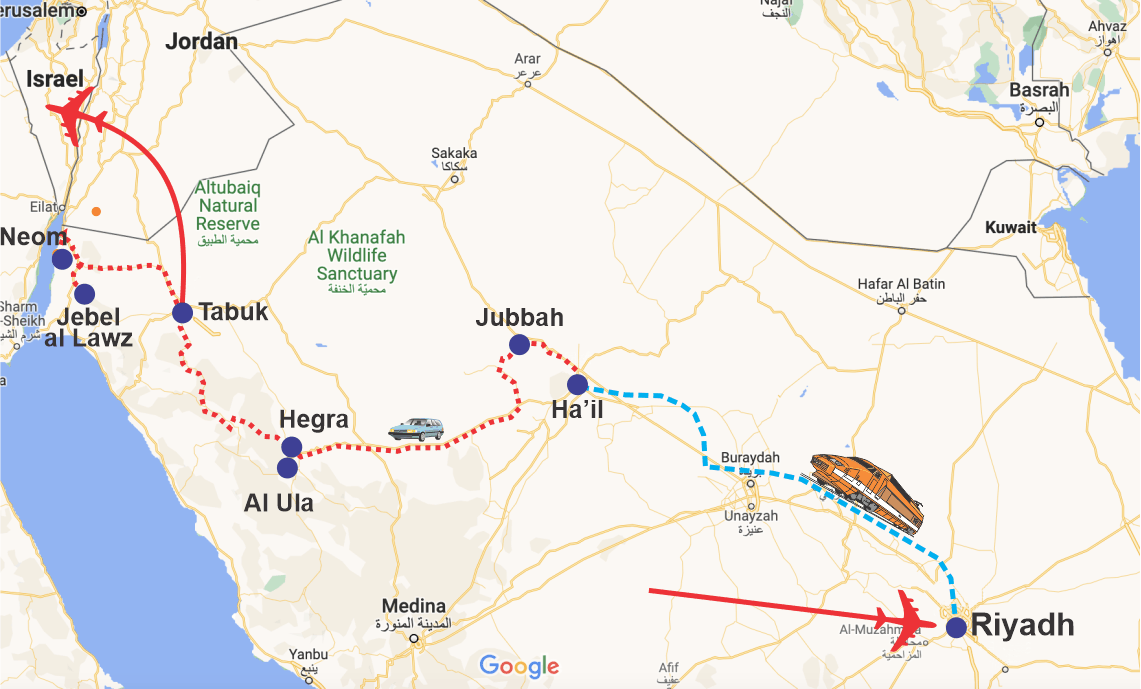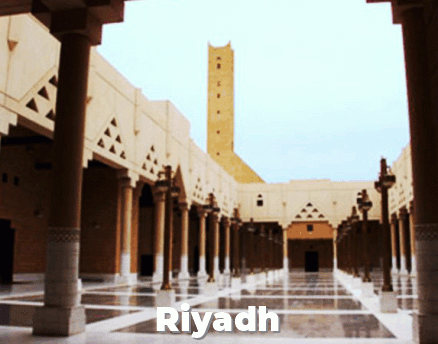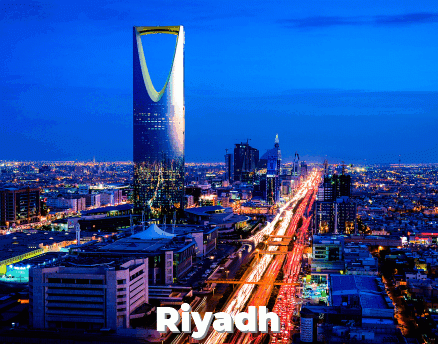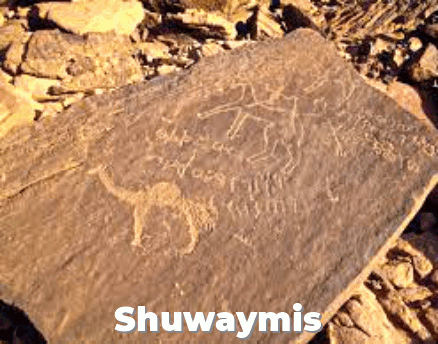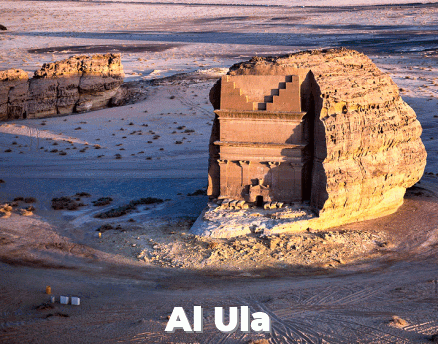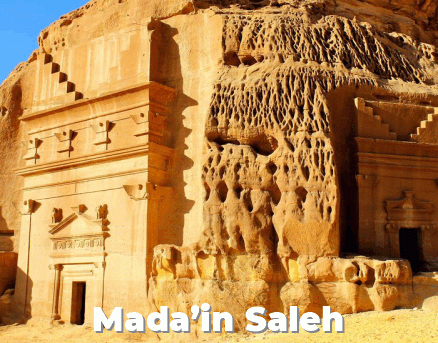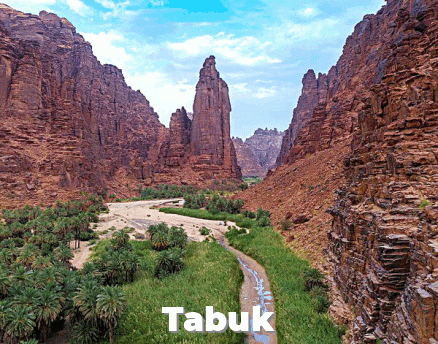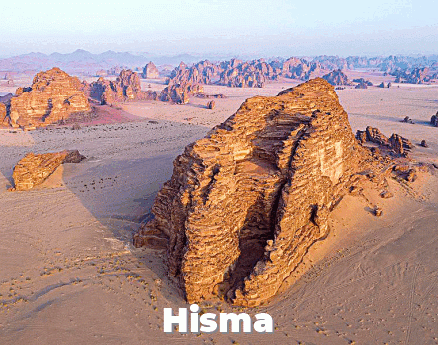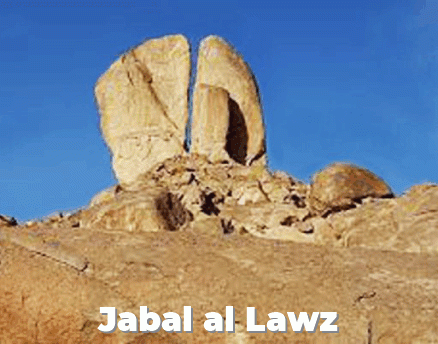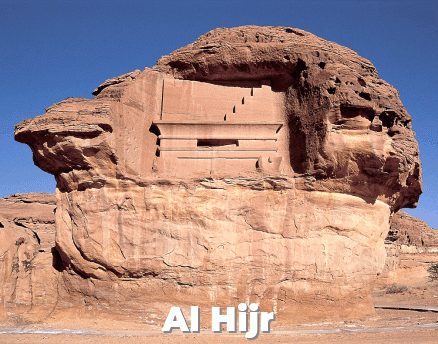 Tour includes
· Airfare New York/Riyadh//Tabuk/New York
· Arrival and departure transfers
· 8 nights' accommodation
o Riyadh 2 nights
o Ha'il 1 night
o Al Ula 2 nights
o Tabuk 3 nights
· Meals:Na
o Breakfast daily
o 7 lunches
o 7 dinners
· Riyadh full day tour
· Visit traditional village "Sadous of the Najd"
· Visit the A'Arif Fort
· See the ancient petroglyphs in Jubbah
· See the Shuwaymis major carving site
· Nabatean experiences of Al Ula
· Visit the ancient sites of Ekma and Abu 'Aoud
· Tour the World Heritage site of Madain Saleh
· See Jibal Al-Rukkab & Leopard trail
· Visit Jebel Al-Fil (Elephant mountain)
· Discover the ancient land of Madyan
· Visit Jebel Al Lawz (Mountain of Almonds)
· 4x4 Excursion to Wadi Rum (Hisma)
· Train from Riyadh to Hail
· Full time guide assistance In English, Spanish or Russian
· Transportation by A/C vehicle or 4x4
· Entrance fees for sites visited
· All local taxes
Not included in tour
· Taxes or surcharges related to airline tickets
· Travel insurance
· All alcoholic and non-alcoholic drinks
· Other meals not mentioned in itinerary
· Extras and gratuities
· Early check-in, late check-out
· Expenses of personal nature
Hotels
City
Hotel Name
Tripadvisor
First Class
Riyadh
Holiday Inn Al Qasr
3.5
Al Ula
Shaden Resort Hotel
3.5
Tabuk
Holiday Inn
3.5
Al Hail
Millennium Hotel
4.5
Hotels will be confirmed at time of booking
Prices
Departure
Double
Single
Triple
Languages

2022 Departures

Jan 14
$4,335
$5,559
$4,239
English
Feb 11
English, Spanish or Russian
Mar 11
English
May 6
English, Spanish or Russian
Jun 3
$3,619
$4,649
$3,525
English
Sep 9
English
Sep23
English, Spanish or Russian
Oct 14
$4,335
$5,559
$4,239
English
Oct 28
English, Spanish or Russian
Nov 11
English
Nov 18
English, Spanish or Russian
Dec 2
English
Add-ons available from all US gateways.
Price is minimum per person sharing a double room and may change without notice
These programs can be customized for individuals and for groups
Changes to this program may be requested by phone (1855-55-TOURS) or using the web FIT Quote Request
Airfare
We also be glad to add the necessary airfare from your gateway so you take advantage of our special discounted leisure fares
· Program
You may add or remove;
o Trip days
o Cities and sites
o Meals
· Other options
o The program was designed with private services, however, we may substitute shared sightseeing where available
o If you prefer deluxe services we may operate this program including private driver, private guide and concierge service.
· Quotation
Once we have designed the program the way you want we'll give you a quote within 2 business days.
Tour Code: SA03RUH22KT
Options
· Lunches and dinners can be arranged for individuals, families and groups at top restaurants or any restaurant requested by you.
· We can revise the itinerary to spend more time and provide more depth in those areas that you are interested on.
· Any other changes to the itinerary will be accommodated depending on the facilities available in the area.
· Car can be upgraded upon request
Group Quotations
· If you wish to use these programs for your group or as the basis for a customized journey please either call us (1-855-55-TOURS or use the web Group Quote Request.
· In either case our specialists will work with to refine all the details and they will get you a quote with 2 business days. Quotes may be obtained for the air and land portions of just for the lad journey.
· Booking both air and land with us will represent savings for you because of our buying power and longtime relationship with the airlines.
We will also may have the choice between regular fares and special leisure fares not available to the public.
Others
| When | City | Hotel Name | Double | Single |
| --- | --- | --- | --- | --- |
| Before | Riyadh | Holiday Inn Al Qasr | $79 | $145 |
| After | Tabuk | Hilton Garden Inn | $79 | $145 |
Prices are per person an may change without notice