Discover Gapalagos
| | |
| --- | --- |
| Purpose: | Relaxation, Ecotourism, Cruising, Discovery |
| No. of days: | 4 days - 3 nights |
| First & Last Cities: | Baltra |
| Other cities: | Santa Cruz Island |
| Starting cost: | $1,199 |
With a surface of 243,646 acres, Santa Cruz is the second largest island of the Archipelago. Colonized since the 1920's, Puerto Ayora, the populated part of the island, is the most important harbor of the Archipelago. With altitudes reaching 2,835 feet this island comprises all plant zones, ranging from coast to pampas. The headquarters of the Galapagos National Park and the Charles Darwin Station are also located in Santa Cruz.
Day 1: Baltra Island, Santa Cruz Island
Arrive at Baltra Island. From the airport you take a bus to the Itabaca Canal where you head by ferry for the other side of Santa Cruz Island.
On the way you will visit the highlands of Santa Cruz. During a short stop you have the opportunity to take pictures of the Twin Craters. Located one in front of the other on both sides of the road connecting Puerto Ayora to Baltra, the Twin Craters are a magnificent site. They were formed as a result of the collapse of the crust into the crater. There are many craters of this type in this area, which signals the possibility that these craters are all elements of the same fissure. The vegetation of this area is dominated by Scalesia Trees, which make the site a beautiful green landscape. You will visit a lava tunnel, a fun and geologically informative visit. Taking a short walk, you can also observe the famous giant tortoise in its natural environment. Lunch in the highlands before continuing to Puerto Ayora for overnight. [L]
During a full-day boat excursion, you'll visit one of four islands (North Seymour, South Plazas,
Bartholomew
or Santa Fé) or the Dragon Hill (Cerro Dragón) on Santa Cruz. Each of the islands has its own significant beauties to offer and regardless which you'll visit, you'll definitely enjoy your stay. Enjoy lunch on board. Overnight in Puerto Ayora. [B/L]
North Seymour
is a flat island that was uplifted from the sea by underground seismic activity. Located North of Baltra, it is one of the best places to see Blue Footed Boobies and Magnificent Frigate birds. Blue Footed Boobies are found on the flat area near the coast of this island (they nest from May to November). Continuing the trail to the interior, one stumbles upon the biggest congregation of Magnificent Frigate birds in the island. While on North Seymour, there is a high chance of seeing a great show of acrobatic flight, namely a Frigate bird robbing a booby, a gull or even another Frigate bird the food.
South Plazas Island,
where a large colony of sea lions lounges daily in the equatorial sun. Soon you will notice their subtly diabolic grins and wonder what they find so humorous; you only hope the joke isn't on you! South Plazas also boasts excellent examples of typical Galapagos flora such as the towering cacti "trees" that form the principal diet for both the land iguanas and the cactus finch. Other birds that may flutter by include lava gulls, yellow warblers and red-billed tropic birds with their elaborate tails.
Bartholomew
, a tiny island of just 297 acres, offers the visitor one of the most spectacular views of the Archipelago. Bartholomew is located near the west coast of James, on the other side of Sullivan Bay. It is famous for its Pinnacle Rock, which is the representative characteristic of Bartholomew. The climb to the 374 feet high peak is both challenging and worth-doing. On your way up, you will encounter different formations of volcanic origin including spatter and tuff cones, lava flows and lava tubes. Once on the summit, there is a spectacular view of the surroundings. Bartholomew is also a must for the visitor interested in geology. Penguins are common in the bay area.
Santa Fe
is one of the oldest islands of the archipelago. Its age and isolation have allowed several common animals to evolve, including species of land iguana, rice rat and gecko. On the northern coast, you will visit Bahía Barrington, a small tranquil bay, where you can observe green sea turtles and spotted eagle rays cruise over the sandy bottom, brown pelicans and blue-footed boobies rest on the rocks. Also, you can see Nazca boobies and magnificent frigate birds. Sea lions are the most obvious sight on Santa Fe Island, with 2 large colonies on the beaches and pups playing readily with snorkelers in the bay. Other underwater encounters can include marine iguanas, sea urchins and different species of fish.
After breakfast leave for a half-day excursion to visit either Las Grietas or Tortuga Bay. Return to Ayora with time to relax and have lunch on your own.
In the afternoon, visit the Charles Darwin Research Station, where you'll have the opportunity to see how the conservation of the islands is conducted, and understand the huge efforts that scientists, park rangers and park managers among others have to make to preserve this UNESCO World Heritage Site. Above all, the reduction of brought-in animals is very important for the natural balance of the archipelago. The Research station supports scientists all over the world with their work at Galapagos. Return to your hotel for overnight. [B]
Las Grietas
("Cracks") is a rocky bay surrounded by high cliffs which offers an amazing spot to snorkel with colorful fish as the water is crystal clear and shines in all shades of blue. You reach it after a short water taxi ride from the pier of Puerto Ayora and a 15-minute walk along the incredible volcanic landscapes of the Galapagos Islands. On the way you pass the "Playa de los Alemanes" ("Beach of the Germans"), where you can take a break in order to enjoy the sun and swim in the refreshing ocean.
Tortuga Bay
-
After a walk out of town (approx. 1h 30min) you will reach Tortuga Bay, a paradisiacal beach and one of the longest white sandy beaches in the archipelago. Marine iguanas and occasionally sharks and sea turtles can be seen and bird watchers will enjoy the migratory birds walking on the shore. A western rocky edge divides the beach, resulting in a calm small cove and beach surrounded by mangroves. Here you have the opportunity to swim and snorkel around the bay.
Day 4: Santa Cruz Island, USA
Transfer to Baltra airport for you connecting flight to the USA via Guayaquil or Quito. [B]
[B] = Breakfast | [L] = Lunch | [B/L] = Breakfast and Lunch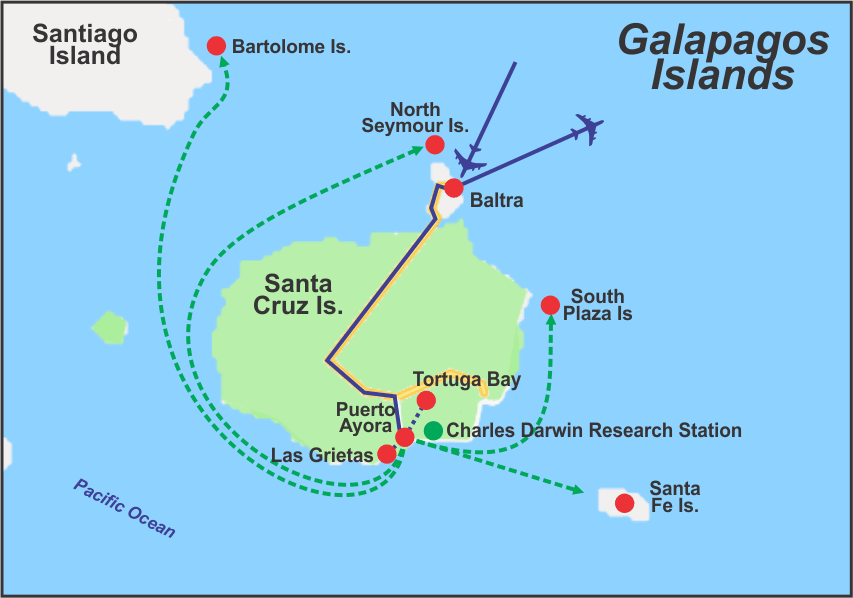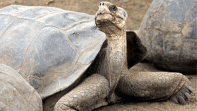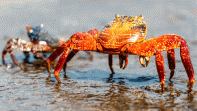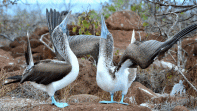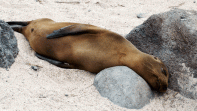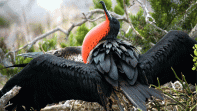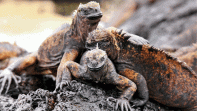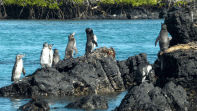 Tour includes
Transfers between airport in Baltra and hotel in Santa Cruz

Accommodation in standard rooms at hotels of preference for 3 nights in Santa Cruz Island (Puerto Ayora)

Meals

Daily breakfast

2 Lunches

tours and visits as described

Tickets to attractions mentioned

Local English-speaking guides

All hotel taxes
* Transfers and tours are on shared basis
Not included in tour
International or domestic air tickets*

Taxes and surcharges related to airline tickets

Transit Control Card $20

National Park Entrance Fee $100

Early check-in or late check-out at hotels

Services and food not listed in the itinerary

Beverages during the meals

Hotel extras, and personal expenses.

Tips for guides, drivers

and in restaurants
Hotels in your Tour
| Category | Hotel Name | Room Type | Tripadvisor |
| --- | --- | --- | --- |
| Tourist Class | Hotel Fiesta | Standard | 4 |
| First Class | Hotel Sol y Mar | Standard | 4.5 |
Hotels will be confirmed at time of booking
Tour Pricing
Category
Double
Single

2019 Departures

Tourist Class
$1,199
$1,935
First Class
$1,645
$2,815

2020

Tourist Class
$1,259
$2,035
First Class
$1,725
$3,025
Rates may change without notice.
Prices for double are per person sharing a room and single is for passengers traveling alone staying in single room.
Rates may change depending on the date of travel. Not valid for holiday season (Dec 20th through January 7th). Other blackout dates may apply.