Discover Mongolia
Ulaanbaatar, Choir, Ikh Gazariin Chuluu, Tsogt Ovoo, Yolin Am Valley, Bayanzag Park, Hongorin Els, Bogd, Ulaantsutgalan (Red Waterfall), Tovkhon Mountains, Erdenezuu, Khogno Khan NP, Khustai Nuruu
Adventure, Nature, Discovery, Culture, History
This program is not suited for less than 6. People traveling together
It may be operated for groups limited by the availability of 4x4 vehicles
---
A circuit that does not require any particular physical effort. You will be welcomed by a team of cooks and drivers. The rhythm of the trip is planned so that you are as close as possible to the nomadic inhabitants of Mongolia. At each prettiest site in Gobi, you have a walk of one or two hours of fun, then, when you are in central Mongolia, you are in the middle of green steppes completely different from the Gobi Desert, the largest desert in Asia. We have established a program rich in both interest and authenticity. The feeling of freedom will inevitably invade you!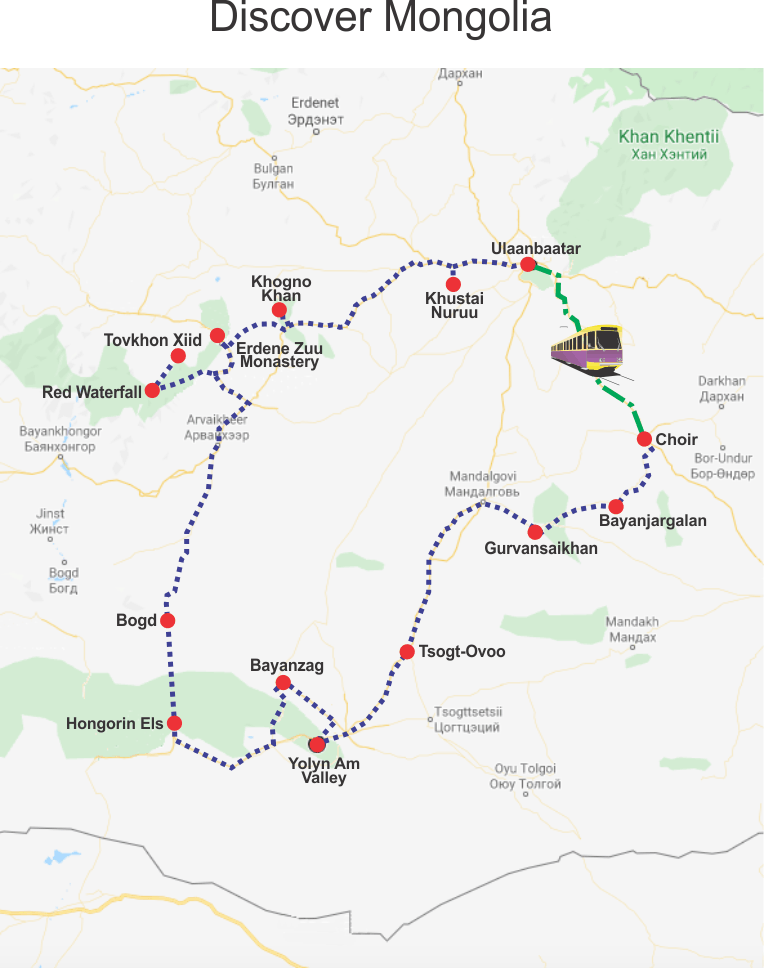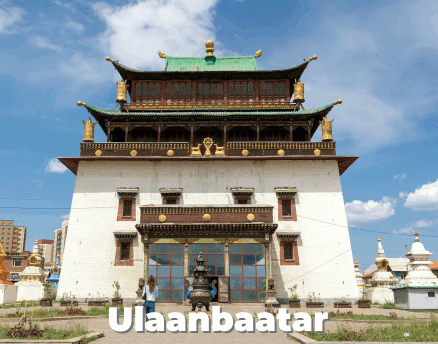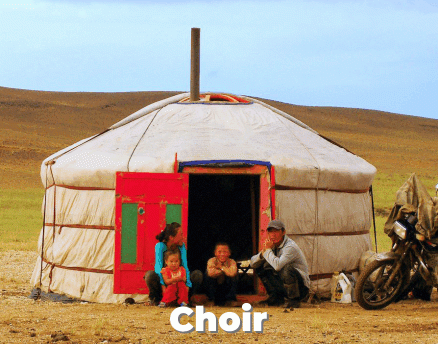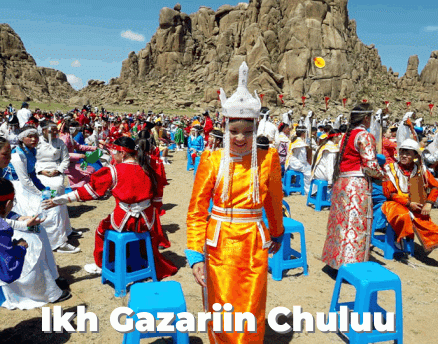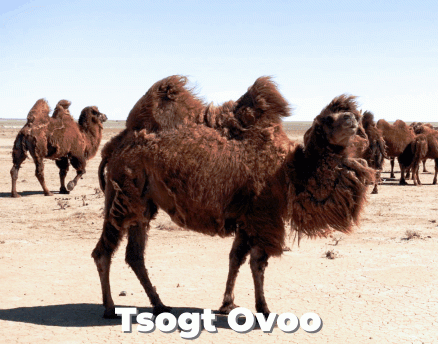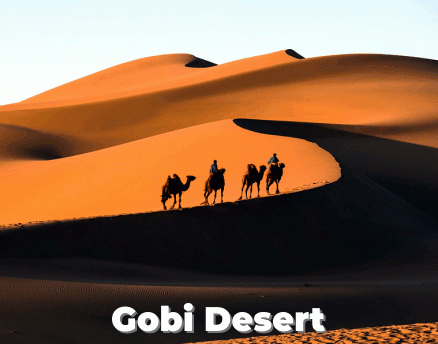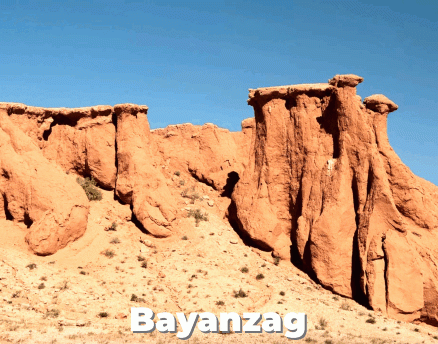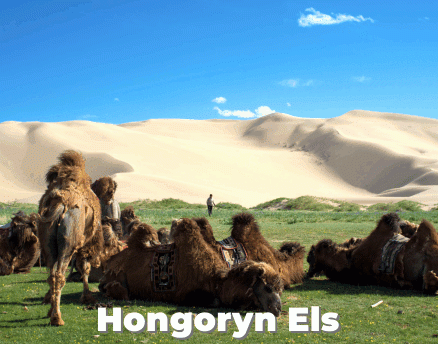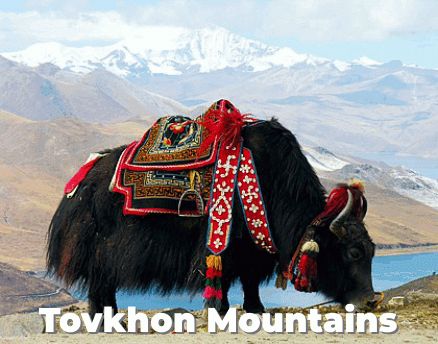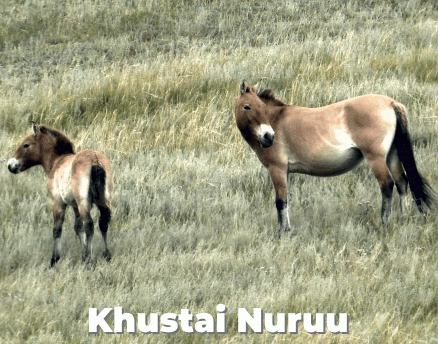 Tour includes
Arrival and departure transfers

15 nights' accommodation in tourist yurts or bivouac:

Ulaanbaatar 4 nights

Yolin Am Valley 1 night

Ikh Garaziin Chuluu 1 night

Tsogt Ovoo 1 night

Bayanzag 1 night

Hongorin Els 2 nights

Bogd 1 night xx

Ulaantsutgalan 1 night

Tovkhon 1 night

Khogno Khan 1 night

Khustai Nuruu 1 night

Meals:

Breakfast daily

11 lunches

3 picnic lunches

14 dinners

1 typical Horhog dinner

Walking tour of Ulaanbaatar

Hike in Ikh Gazariin Chuluu

Visit Am Valley

Gobi Desert

Gurvan Saikhan Ridge

Singing dunes of Hongorin Els

Ulaantsutgalan Red Waterfall

Tovkhon Xiid temple

Erdenezuu Monastery

Prejvalski horses at Khustai Nuruu

Ulaanbaatar National History Museum

Train ticket Ulaanbaatar/Choir

Transportation by 4x4 vehicle

Entrances to natural parks and sites visited

English-speaking guide, cook, driver

Local taxes
Not included in tour
International or Domestic airfares

Any taxes and surcharges relating to airfares

Travel insurance

Entry Visa and visa fees:

€ 60 on site

All alcoholic and non-alcoholic drinks except as indicated

Other meals not mentioned in the itinerary

Camel and horse rental

Extras and gratuities

Expenses of personal nature

Porterage at airport and hotels

Optional tours and activities

Any service not specifically listed under "included"
Hotels
| Location | Camp Type |
| --- | --- |
| Ulaanbaatar | Tourist yurt |
| Yolin Am Valley | Tourist yurt |
| Ikh Garaziin Chuluu | Tourist yurt |
| Tsogt Ovoo | Family yurt |
| Bayanzag | Tourist yurt |
| Hongorin Els | Breeders' yurt |
| Bogd | Bivouac |
| Ulaantsutgalan | Family yurt |
| Tovkhon | Tourist yurt |
| Khogno Khan | Tourist yurt |
| Khustai Nuruu | Tourist yurt |
Accommodations will be confirmed at time of booking
Small note for those who wonder about the comfort of the trip:
The nights are often in a heated yurt with a stove in the middle and sheets are provided. Nights 3, 6, 10 and 11 with nomadic breeders offer basic comfort with a dry toilet. This proximity to nomads can bring you an interesting and enriching experience. Day 9 is in wild bivouacs with tents, mattresses and blankets being provided. You can bring your own duvet or you can rent on site for 1 euro per day (12 euros for the tour). Rental duvets are washed clean that contain a sheet and a cover bag. The rest of the nights are all in the comfortable, well-appointed tourist yurts.
Prices
These programs can be customized for individuals and groups.
Changes to this program may be requested by phone (1855-55-TOURS) or using the web FIT Quote Request
We also be glad to add the necessary airfare from your gateway so you take advantage of our special discounted leisure fares
The program was designed with private services, however, we may substitute shared sightseeing where available
Once we have designed the program the way you want we'll give you a quote within 2 business days.
Options
We can revise the itinerary to spend more time and provide more depth in those areas that you are interested on.

Any other changes to the itinerary will be accommodated depending on the facilities available in the area.
Group Quotations
If you wish to use these programs for your group or as the basis for a customized journey please either call us (1-855-55-TOURS or use the web Group Quote Request.

In either case our specialists will work with to refine all the details and they will get you a quote with 2 business days. Quotes may be obtained for the air and land portions of just for the lad journey.

Booking both air and land with us will represent savings for you because of our buying power and longtime relationship with the airlines.

We will also may have the choice between regular fares and special leisure fares not available to the public.