Hong Kong Heritage and Macau
Hong Kong Heritage and Macau
| | |
| --- | --- |
| Purpose: | Break, Fun, Discovery, Culture |
| No. of days: | 7 days - 6 nights |
| First & Last Cities: | Hong Kong |
| Other cities: | Kowloon, Victoria Harbor, Aberdeen, Lantau, Stanley, Ocean Park, Macau |
| Starting cost: | $1,149 |
Upon your arrival in Hong Kong you will be met by our representative and assisted on your transfer to the hotel in Kowloon for check-in. The rest of the day is free to rest or start discovering the city. Overnight in Hong Kong.
Hong Kong was once a simple fishing village. Today, it is one of the world's most cosmopolitan cities where East truly meets West. See all the highlights of Hong Kong Island on this orientation tour. It is a great way to get to know Hong Kong and its famous landmarks and history. Start with a ride on the iconic Star Ferry as you cross Victoria Harbor, one of Hong Kong's greatest assets and a jewel that people marvel at no matter how many times they visit the city. You'll then have a chance to visit the Man Mo Temple, a picturesque tribute to the God of Literature (Man) and the God of War (Mo), before exploring Cat Street – home to antique dealers, curio merchants and art galleries. Next is a ride on the World's steepest funicular railway, the Peak Tram! Pulled by steel cables, the tram climbs 373 meters (about 1,200 feet) and is so steep that the buildings you pass look like they're leaning. Looking down from The Peak, you'll be amazed by the spectacular view of the surrounding city skyline, the world-famous Victoria Harbor and Kowloon, towering skyscrapers and peaceful green hillsides. Next you will visit Aberdeen, the famous fishing village where you'll see Hong Kong's junk-dwelling "floating community" - still very much a part of Hong Kong life. An optional 15-20 minutes sampan ride can be arranged into the typhoon shelter for a close-up view of waterborne life. (At own expense). Feel like dining amidst the sumptuous surroundings of a Chinese palace? Welcome to Jumbo Kingdom, one of Hong Kong's truly unique attractions. Since its opening in 1976, it has excelled in the preparation of local cuisine for discerning diners. Here you will experience a Chinese Dim Sum lunch complete with Chinese tea. Situated in Aberdeen harbor, Jumbo is a modern complex of fine-dining, sightseeing and cultural attractions – a must-see destination for a complete Hong Kong experience. After Lunch you will pass through picturesque Repulse Bay on your way to Stanley, a popular market town on the sunny south side of Hong Kong Island. Spend the remainder of your tour exploring Stanley's relaxed ambience and markets where bargain buys have made it world famous.
Overnight at your hotel. [B/L]
Day 3: Hong Kong Ocean Park
Today will be dedicated to one of the most famous theme parks in Asia: Ocean Park never fails to impress! The outdoor escalator system is the second largest in the world and the cable-car ride to the headland provides unparalleled panoramic views of the south side of Hong Kong Island's Riviera-like coastline and some of the 260 outlying islands of Hong Kong. There are numerous rides to enjoy as well as the Ocean Theatre - the home of a marine mammal show featuring dolphins and sea lions. The newly renovated Giant Panda Habitat is another must-see attraction. Le Le and Ying Ying are gifts from the Chinese Government to celebrate the 10th anniversary of the establishment of the Honk Kong Special Administrative Region. Overnight at Hotel. [B]
Lantau Island is almost twice the size of Hong Kong Island and is one of the best loved outlying islands. You will hop aboard a fast ferry for a spectacular ride through the busy harbor past ocean-going ships to the beautiful Chung Sha Beach. Next, you will have a chance to explore Tai O, also known as the "Venice of the East". This quaint village was once the largest inhabited settlement on Lantau Island. The village's stilt houses on the waterfront offer a glimpse into Hong Kong's past and provide a striking contrast with the modern city. Visit the World's tallest outdoor, seated bronze statue at the Po Lin Monastery and enjoy a great vegetarian meal. Your tour is completed with a Ngong Ping Cable Car ride. The 5.7km cable car journey offers visitors spectacular 360-degree panoramic views of South China Sea, Hong Kong International Airport, Lantau North Country Park and Giant Buddha.
Note
: Should Cable car be cancelled due to inclement weather or other safety reasons, alternative transportation will be arranged.
Day 5: Heritage & Harbor by night
Hidden away among high-rise apartment towers and busy highways, the past lives on in the New Territories; a living museum shaped by the rise and development of the so-called five great clans of Hong Kong (the Tang, Hau, Pang, Liu and Man). Taking in historic sites around the New Territories, the Heritage Tour brings to life the customs and cultures of these clans and provides a fascinating glimpse of Hong Kong's rich heritage. You will start the tour with a visit to Tai Fu Tai and Fan Tin Village. The opulent stately home built in 1865 by a scholar of the Man clan, Man Chune-luen, who was bestowed a title of Tai Fu (Mandarin) by The Qing Imperial government. Nearby is Fan Tin village where the Man clan members dwell. A photo stop will be made at the Lo Wai Walled Village, the first walled village built by the Tang clan. The site was also declared a monument in 1997. Nearby is the Tang's Ancestral Hall, built in the 16th century, for clan rituals & ancestor worship. Make a wish at Lam Tsuen Wishing Tree, a big banyan tree that is popular among local villagers who come to burn joss sticks and make wishes under it. Next is a visit to a spectacular Tang dynasty-style Buddhist temple the Chi Lin Nunnery. This Buddhist nunnery is stunning with its monastery complex having been renovated as a piece of Tang dynasty architecture. The grand and elegant complex will surely become one of China's great cultural attractions in the years to come.
The tour starts with dinner at the highest restaurant in Hong Kong, the famous Bubba Gump located at the Peak. Bubba Gump offers the best view and panorama of Hong Kong by night in a casual setting. Next, feel the authentic hustle and bustle typical of Hong Kong while taking a stroll along the busy, narrow lanes of Temple Street. It is an amazing sight, featuring rows of brightly lit stalls hawking an astonishing variety of inexpensive items for men and women
─
including clothing, pens, watches, CDs, cassettes, electronic gadgets, hardware and luggage. Fortune-tellers cluster at the Yau Ma Tei end of the street, as do Chinese opera enthusiasts seeking kindred spirits for impromptu performances. It is open from 4pm to midnight, but really comes alive after sunset. Continue with a relaxing Harbor Cruise on a quaint Chinese Junk where unlimited drinks are served. Witness the mesmerizing reflections of gorgeous multicolored neon lights wavering in the harbor water. Experience the pleasure of sailing against the soothing, yet invigorating sea-breeze before stepping onto dry land for the return transfer to your hotel. [B/D]
Day 6: Hong Kong, Macau, Hong Kong
Early morning transfer you to the Macau Ferry Terminal to start today's tour to the fascinating city of Macau. Like Hong Kong, Macau is a place where East meets West, albeit with a slight twist. On this tour you will be shown the charm of the Chinese and Portuguese heritages embraced in arrays of modernized architecture. Upon arrival in Macau, your tour begins with visits to a number of world heritage sites include the Na Tcha Temple and a section of the Old City Walls. This surviving segment of the City Wall was built in 1569. It is a remnant of an early Portuguese tradition of constructing defensive walls around their port settlements. Next you will visit the Museum of Macau, which exhibits Macau's history, people and culture. (Note: On Mondays, because the Museum of Macau is closed, it will be replaced by a visit to the Maritime Museum.) After the visit you will have time to explore Mount Fortress. This World heritage site was Macau's principal military defense structure, which was built conjunction with the Jesuits from 1617 to 1626. The fortress covers an area of 2.5 acres and is in the shape of a trapezoid. The tour continues to the landmark of Macau – the Ruins of St. Paul's Roman Catholic Church. This Roman Catholic Church was built in 1602 and burned by fire in 1835. Miraculously, fine art of carvings and statues can be seen on the surviving facade. Stroll through Senado Square, the historic heart of Macau and also the location of one of its municipal markets, surrounded by several blocks of bustling street stalls. In the narrow streets, leading off the main square, a wealth of inexpensively priced goods of all kinds can be found. Next stop at the famous A-Ma Temple - built 400 years ago in homage to a girl who saved seamen's lives. The final stop will be the Macau Tower, where you can gaze out over Taipa and Coloane, look for Macau's landmarks and historical sites or try to spot Hong Kong's outlying islands. During the tour there will also be a short stop at one of the Casinos in Macau as well as a buffet lunch at Fisherman's Wharf. Transfer back to hotel for overnight. [B/L]
Only persons over the age of 21 and wearing appropriate clothing will be allowed into the gaming areas. Buffet lunch at Fisherman's Wharf.

Please bring along passport for immigration
After breakfast, at the appointed time, transfer from the hotel to Hong Kong's airport to board your flight back home or to your next destination. [B]
[B] = Breakfast | [B/L] = Breakfast and Lunch | [B/D] = Breakfast and Dinner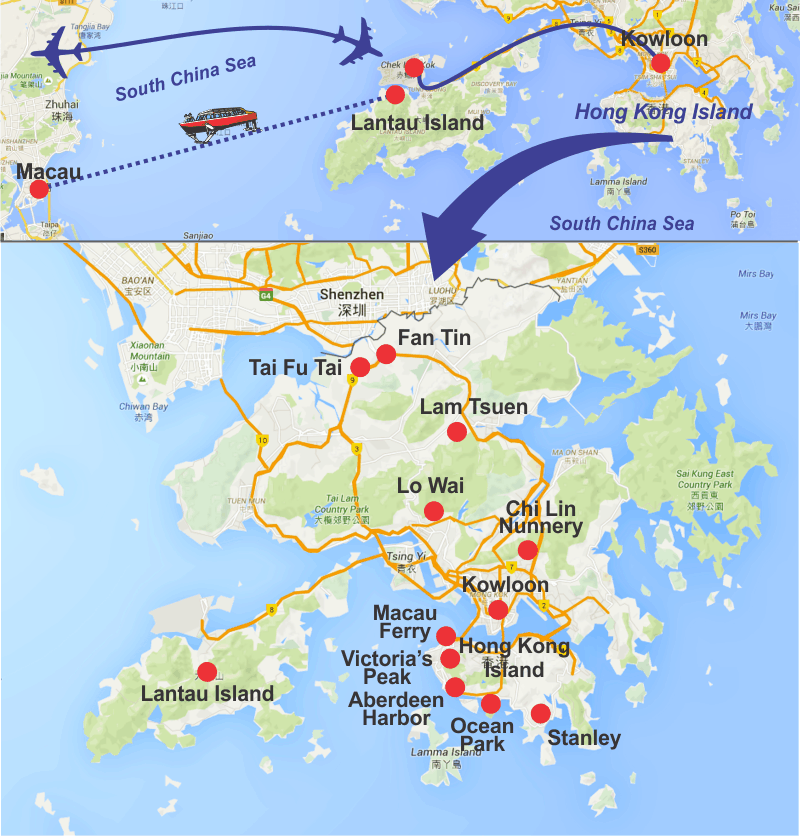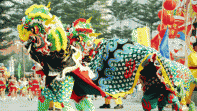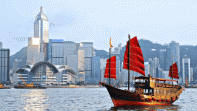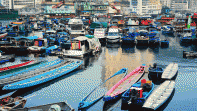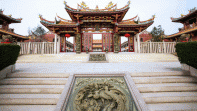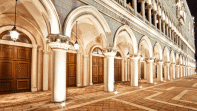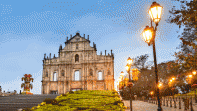 Tour includes
Arrival and departure transfers

6 nights' accommodation

Meals

American buffet breakfast daily

1 Chinese Dim Sum lunch

1 vegetarian lunch

1 Buffet lunch

1 Dinner at Bubba Gump

One-way tram ticket to the Victoria Peak

Excursion to Ocean Park

Exploration of Lantau

Heritage tour of Hong Kong & Kowloon

Harbor cruise on a Chinese Junk with drinks

Visit to Macau Tower

Visit to Museum of Macau

Sightseeing coaches

One-way Ferry ticket to Lantau

One-way Ngong Ping Cable Car ticket

Round-trip ferry tickets to Macau

Admission tickets where indicated

Guided services for visits and excursions

Assistance by our local representatives
Not included in tour
Air tickets, taxes and surcharges.

International or domestic border taxes.

Meals and services not mentioned in the itinerary.

Personal expenses.

Drinks with meals or others

Hotels' early check- in (before 2:00 pm) or late check-out (after 4:00 pm)

Travel Insurance

Entrance fees or extra charges for any optional activities or extra sightseeing not mentioned as included in the above itinerary.

Tips to guides, drivers and hotel/restaurant staff
Hotels in your Tour
Category
Hotel Name
Tripadvisor
First Class
Hong Kong
Harbour Plaza 8 Degrees
4.5
Deluxe
Hong Kong
The Mira Hotel
4.5
Other hotels available on request
Tour Pricing
First Class

Seasons

Double

Single

Double

Single

Room Type

City Superior

City Deluxe

Low
May-Aug
$1,149
$2,259
$1,225
$1,619
16 Nov-15 Dec
Shoulder
Apr
$1,245
$1,665
$1319
$1,805
Sep-15 Nov
High
Dec 16-31
$1,345
$1,859
$1,419
$2,005
Deluxe

Seasons

Double

Single

Double

Single

Double

Single

Double

Single

Room Type

City View

Courtyard

Park View

Club City

Low
Apr-Aug 15
$1,549
$2,229
$1,615
$2,369
$1,689
$2,509
$1,925
$2,975
Shoulder
Aug 16-Oct
$1,665
$2,465
$1,735
$2,605
$1,805
$2,745
$2,035
$3,209
Peak
Nov 15-Dec
$1,849
$2,835
$1,925
$2,975
$1,989
$3,115
$2,229
$3,589
High
Dec 16-31
$1,925
$2,975
$1,989
$3,115
$2,065
$3,265
$2,295
$3,729
Prices are per person, may change without notice and are valid until December '20