Madrid, Castilla and Andalusia
Madrid, Castilla and Andalusia
| | |
| --- | --- |
| Purpose: | Discovery, Culture, History, Fun |
| No. of days: | 7 days - 6 nights |
| First & Last Cities: | Madrid |
| Other cities: | Cordoba, Seville, Granada, Toledo |
| Starting cost: | $1,399 including airfare |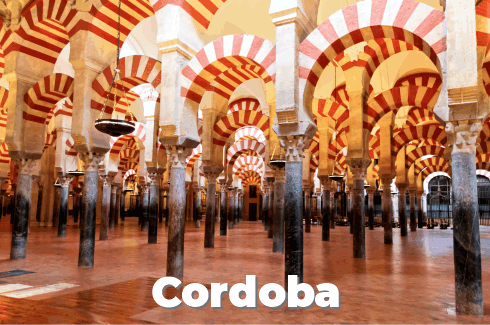 The Spanish capital can be visited in a couple of days. In addition to the famous museums such as Prado, the Royal Palace and Plaza Mayor, Madrid is best known for its countless tapas bars, especially in the trendy Chueca neighborhoods. Everything can be done on foot by taking a break in the parks of the city like the Retiro. Andalusia is prodigious and radiant with beauty. With its Moslem influences, the region can be visited in a few major points: Seville with its jewel of monuments the Giralda or the Alcazar, Cordoba and it's famous Jewish Quarter and Grand Mosque and Granada where the Alhambra Palace and Generalife Gardens are a must see.
Day 1 – Sat: Madrid
Meet and greet at the airport. Take a transfer to your hotel. Rest of the day is at leisure Accommodation at the hotel.
Day 2 – Sun: Madrid
Breakfast at the hotel. Morning Madrid guided city tour; find the medieval origins of the city, like the Arabic fortress, at the Barrio de la Morería, famous for its historical buildings. Drive through the courtesan district of the Hapsburgs characterized by Phillip II and its Renaissance and Baroque style buildings, Puerta del Sol, Plaza Mayor and Plaza de la Villa; the Madrid of the Bourbons and the complex town planning schemes of Charles III, the Royal Palace, Cibeles and Neptuno Fountains and the Puerta de Alcalá. Admire the XIX C. works such as Prado Museum. The contemporary Madrid with areas such as Gran Vía, Castellana, the district of Salamanca, Plaza Castilla and Parque del Oeste, as well as commercial and financial areas of Modern Madrid, the emblematic Las Ventas Bullring and the Santiago Bernabéu Football Stadium. Afternoon free to continue exploring the wonders that the city has to offer. Accommodation at the hotel. [B]
Day 3 – Mon: Madrid, Cordoba, Seville
Depart from our established hotels in Madrid. Please refer to your documentation for detailed departure information. Drive southward along La Mancha, Don Quixote's land. Brief stop at typical site in Puerto Lapice. Cross through the natural border of "Despeñaperros" and get into Andalusia, a region for itself that shows an enormous heritage from a splendorous past. Reach Cordoba. Impressive tour of its Mosque and other sites that will ease our mind and spirit strolling through its narrow winding streets of the Jewish Quarter. In the afternoon, after a short two hours ride reach Seville. Accommodation at the hotel. [B]
Day 4 – Tue: Seville
Breakfast at the hotel. Morning panoramic city tour visiting: the exterior of the Cathedral (the second largest in the Catholic world after St. Peters in Rome), Santa Cruz quarter (a natural scenario of "Carmen" as well as a precisely where the myth of "Don Juan" developed), Maria Luisa Park and Plaza de España. Afternoon at leisure for you to discover exclusive views, specific flavors of this active full of light city. Accommodation at the hotel. [B]
Day 5 – Wed: Seville, Granada
After breakfast at the hotel drive east through the Caliphate road to the heart of Andalusia observing an endless number of olive trees on the way to Granada and its incredible and amazing monumental environment, last stronghold of the Moorish Kingdoms up to 1492. Visit the world-famous Alhambra complex and Generalife Gardens that have inspired several authors with its sound and sights, such as the "Tales of the Alhambra" by W. Irving. Accommodation at the hotel. [B]
Day 6 – Thu: Granada, Toledo, Madrid
Breakfast at the hotel. Drive northward where it emerges, toward the sky of Castilla and surrounded by the Tagus River, the impressive Imperial city of Toledo –World Heritage City- where the three cultures Christians, Moorish and Jewish, have lived together. Resume of the Spanish art, history and spirituality the whole town is a National Monument. Short guided tour of this historical old town through its narrow streets. Then proceed with a visit to a famous "Damasquinado" (gold and silver inlaying in iron) factory. Continue to Madrid. Accommodation at the hotel. [B]
Day 7 - Fri: Madrid
After breakfast at the hotel transfer to the airport. [B]
[B] = Breakfast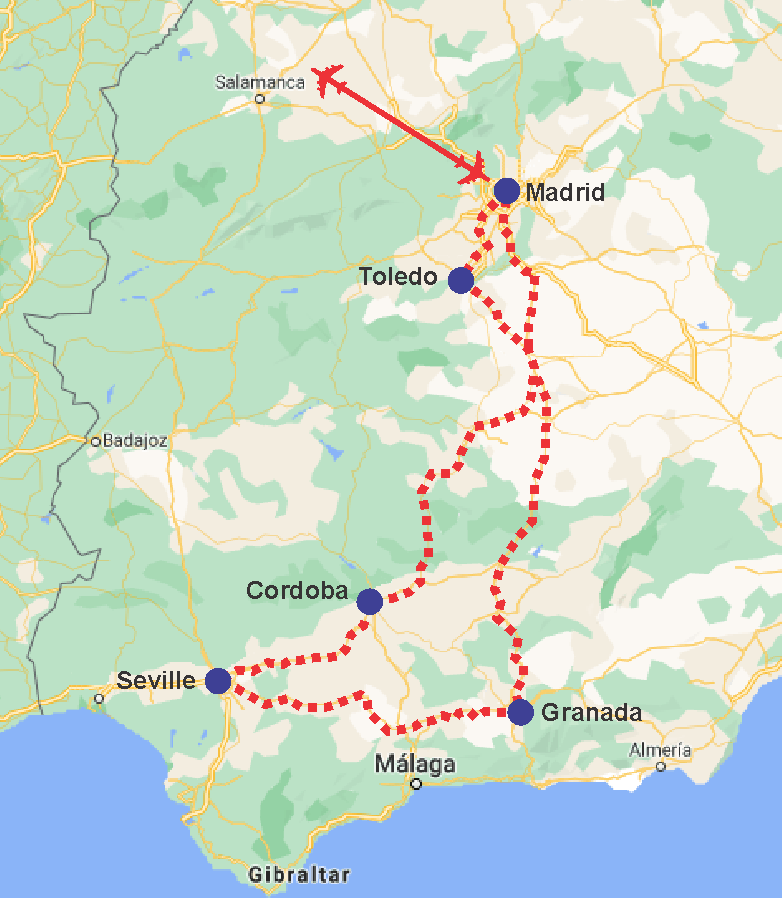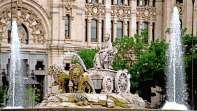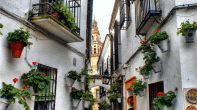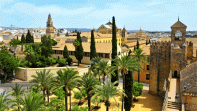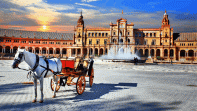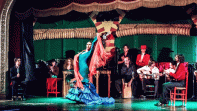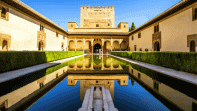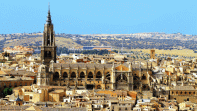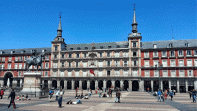 Tour includes
· Round-trip airfare New York/Madrid
· Private arrival and departure transfers
· 6 nights' accommodation:
· Madrid 3 nights
o Seville 2 nights
o Granada I night
o Breakfast daily
· Sightseeing of Madrid
· Tour of Cordoba Mosque
· Panoramic tour of Seville
· Visit to Alhambra Palace & Generalife Gardens
· Tour of historical Toledo
· Private driver-guide during the tour
· Deluxe A/C vehicle
· Entrance fees for sites visited
· All local taxes
Not included in tour
· Taxes related to international airfares
· Travel insurance
· Meals and beverages not mentioned under inclusions
· Guide service
· Porterage service
· Expenses of a personal nature
· Any item not mentioned as "Included"
· Tips to guides or drivers
· Other services not mentioned in the program
Hotels in your Tour
City
Hotel Name
Tripadvisor
First Class
Madrid
Courtyard Marriott Madrid Princesa
3.5
Riu Plaza España
4
Seville
Hesperia Sevilla
3.5
Granada
Catalonia Granada
4.5
Boutique Hotels
Madrid
Catalonia Gran Via
4
Seville
H10 Casa de la Plata
5
Granada
NH Victoria
4.5
Hotels will be confirmed at time of booking. Tourist Class hotels available on request.
Tour Pricing
Departure Dates
2-3 Pax
4-7 Pax
8 -11 Pax
12-17 Pax
Double
Single
Double
Single
Double
Single
Double
Single

First Class

Apr 2, 23
$2,685
$3,075
$1,959
$2,425
$1,519
$1,869
$1,399
$1,835
May 7, 14
$2,575
$2,965
$1,849
$2,319
$1,409
$1,759
$1,289
$1,719
Jun 11, 18
$2,799
$3,195
$2,075
$2,545
$1,635
$1,989
$1,515
$1,949
Jul 9, 16
$2,845
$3,239
$2,119
$2,589
$1,679
$2,029
$1,559
$1,995
Aug 6, 13, 27
$2,899
$3,295
$2,175
$2,645
$1,735
$2,089
$1,615
$2,049
Sep 3, 17
$2,619
$3,009
$1,895
$2,359
$1,455
$1,805
$1,335
$1,765
Oct 1, 08
Dec 17, 24
$2,989
$3,379
$2,265
$2,729
$1,825
$2,175
$1,705
$2,135

Boutique Hotels

Apr 2, 23
$2,919
$3,469
$2,189
$2,819
$1,749
$2,269
$1,629
$2,249
May 7, 14
$2,805
$3,359
$2,079
$2,715
$1,639
$2,159
$1,519
$2,139
Jun 11, 18
$3,035
$3,589
$2,309
$2,939
$1,869
$2,385
$1,745
$2,369
Jul 9, 16
$3,079
$3,635
$2,349
$2,985
$1,909
$2,429
$1,789
$2,409
Aug 6, 13, 27
$3,135
$3,689
$2,409
$3,039
$1,969
$2,485
$1,845
$2,469
Sep 3, 17
$2,849
$3,405
$2,125
$2,759
$1,685
$2,199
$1,565
$2,185
Oct 1, 08
Dec 17, 24
$3,219
$3,775
$2,495
$3,129
$2,055
$2,569
$1,935
$2,555
Add-ons available from all US gateways.
Prices are per person, are valid through September '22 and may change without notice. Tourist Class prices available upon request,
This program can be customized for individuals and groups.
Changes to this program may be requested by phone (1855-55-TOURS) or using the web FIT Quote Reques
t
We also be glad to adjust the airfare from your gateway so you take advantage of our special discounted leisure fares
o
The program was designed with private services, however, we may substitute shared sightseeing where available
o
If you prefer deluxe services we may operate this program including private driver, private guide and concierge service.
Once we have designed the program the way you want we'll give you a quote within 2 business days.
Options
· Lunches and dinners can be arranged for individuals, families and groups at top restaurants or any restaurant requested by you.
· We can revise the itinerary to spend more time and provide more depth in those areas that you are interested on.
· Any other changes to the itinerary will be accommodated depending on the facilities available in the area.
· Private arrival and/or departure transfer
Group Quotations
· The options suggested in the itinerary will be quoted at time of booking
· If you wish to use these programs for your group or as the basis for a customized journey please either call us (1-855-55-TOURS or use the web Group Quote Request.
· In either case our specialists will work with to refine all the details and they will get you a quote with 2 business days. Quotes may be obtained for the air and land portions of just for the lad journey.
· Booking both air and land with us will represent savings for you because of our buying power and longtime relationship with the airlines.
· We will also may have the choice between regular fares and special leisure fares not available to the public.
Others
Special Options:
We offer these special options at the stops in your itinerary so you may complete your Spanish experience with typical events characteristic of each region.
City
Tour Name
Cost
Description
Madrid
Tapas Tour- Historical-gastronomic experience
$64
Seville
Cathedral and Boat Trip on the Guadalquivir
$58
Boat Trip on the Guadalquivir:
$22
Flamenco with one drink
$52
Granada
Tour of the Albaicín- an experience through Arabian Granada
$39
Flamenco Zambra:
$30