Madrid, Porto, Fatima, Lisbon
| | |
| --- | --- |
| Purpose: | Discovery, Culture, History, Fun |
| No. of days: | 9 days - 8 nights |
| First & Last Cities: | Madrd |
| Other cities: | Salamanca, Porto, Coimbra, Fatima, Batalha, Nazare, Alcobaça, Lisbon, Caceres |
| Starting cost: | $1,545 including airfare |
This program may be operated for individuals, pods and groups
Discover the wonders of Spain and Portugal Travel with your guide by coach to major cities such as charismatic Porto and see historic cities like Coimbra -first Portuguese capital – or Batalha Monastery - a jewel of renaissance architecture - and sacred sites such as Our Lady of Fátima Sanctuary. You'll also enjoy Lisbon surrounded by 7 hills, each featuring a particular attraction and Belem, built to celebrate the era of Discoveries during Portugal "Golden Age";
Day 1, Sun: Madrid
Meet and greet at the airport. Take a transfer to your hotel. Rest of the day is at leisure. Accommodation at the hotel.
Day 1, Mon: Madrid
Breakfast at the hotel. Morning Madrid guided city tour; find the medieval origins of the city, like the Arabic fortress, at the Barrio de la Morería, famous for its historical buildings. Drive through the courtesan district of the Hapsburgs characterized by Phillip II and its Renaissance and Baroque style buildings, Puerta del Sol, Plaza Mayor and Plaza de la Villa; the Madrid of the Bourbons and the complex town planning schemes of Charles III, the Royal Palace, Cibeles and Neptuno Fountains and the Puerta de Alcalá. Admire the XIX C. works such as Prado Museum. The contemporary Madrid with areas such as Gran Vía, Castellana, the district of Salamanca, Plaza Castilla and Parque del Oeste, as well as commercial and financial areas of Modern Madrid, the emblematic Las Ventas Bullring and the Santiago Bernabéu Football Stadium. Afternoon free to explore the wonders that the city has to offer. Accommodation at the hotel. [B]
Day 3, Tue: Madrid, Salamanca, Porto
Breakfast. Depart from our established hotels in Madrid. Please refer to your documentation for detailed departure information. Drive to Salamanca. Free time in this University City World Heritage of great architectural and artistic wealth. Departure to the Portuguese border until you reach Porto. Accommodation. [B]
Day 4, Wed: Porto
Breakfast at the hotel. Guided sightseeing tour of Porto, considered World Heritage city. We admire the Cathedral, Stock Exchange building and Santa Clara church. Afterwards, enjoy a different perspective of the city along the river Douro aboard the Blue Boats Cruise and discover the historic heritage visiting one well-known Port Wine Cellars with a wine tasting included. Rest of day at leisure. Accommodation. [B]
Day 5, Thu: Porto, Coimbra, Fatima
Breakfast. Departure to Coimbra. City seat of one of the oldest universities in Europe and the birthplace of Fado. Free time. Then to Fatima. Center of the Christian Faith and World Pilgrimage Sanctuary with its impressive Basilica and the Cova da Iria place where the Virgin Mary appeared. The Chapel of the Apparitions, heart of the sanctuary, with the tombs of the three shepherds, Lucia, Francisco and Jacinta. At night possibility to attend the procession of the candles. Accommodation. [B]
Day 6, Fri: Fatima, Batalha, Nazare, Alcobaça, Lisbon
Breakfast at the hotel. Departure to the Batalha Monastery, a masterpiece of Gothic and Manueline style considered a World Heritage place by UNESCO. Continue to the picturesque fishing town of Nazaré. Free time and continue to Alcobaça (World Heritage) with its Gothic church and Cistercian monastery, whose origins date back to the XII C. Then to Lisbon. Accommodation. [B]
Day 7, Sat: Lisbon
Breakfast at the hotel. Morning sightseeing tour of the ancient Olissipo, drive through its main squares and avenues, Belem Tower, Jerónimos Monastery, Coach Museum, Monument to the Discoverers, Marquis of Pombal Square, Liberty Avenue. Afternoon at leisure for you to catch the nostalgic corners of Alfama Quarter, the old city gathered next to its Castle, with old buildings nested in narrow twisting "Ruas" full of color housing the genuine "tabernas" where Fado sounds as a missing past. Accommodation at the hotel. [B]
Day 8, Sun: Lisbon, Caceres, Madrid
Departure to Caceres considered as World Heritage place because of the city's blend of Roman, Islamic, Northern Gothic and Italian Renaissance architecture. Walk through its Plaza Mayor and the Old Town with its famous Medieval Quarter. Continue to Madrid. Accommodation at the hotel. [B]
Day 9, Mon: Madrid
After breakfast at the hotel transfer to the airport. [B]
[B] = Breakfast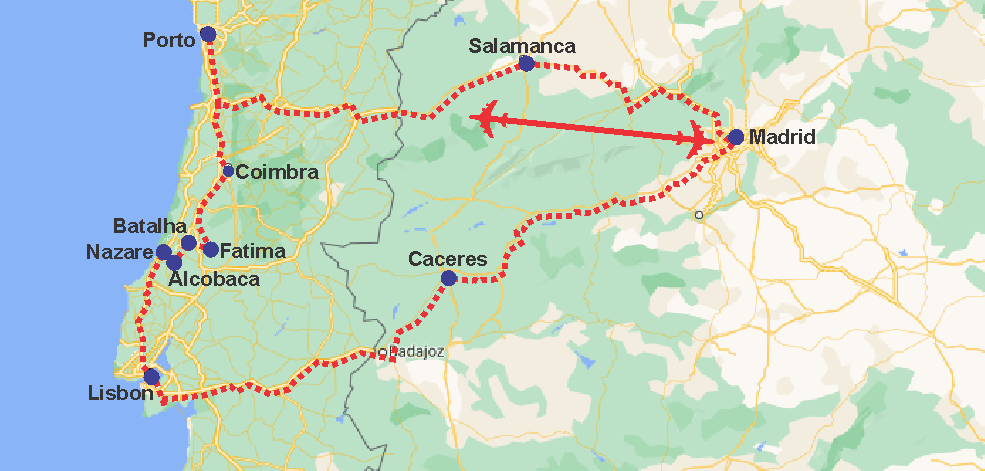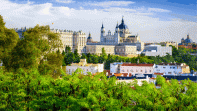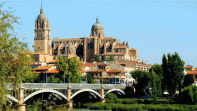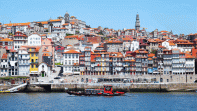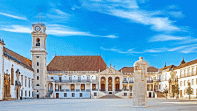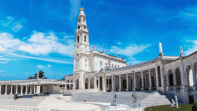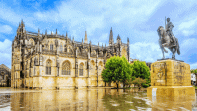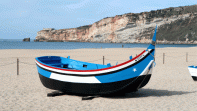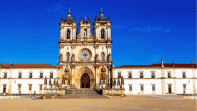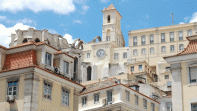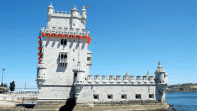 Tour includes
· Round-trip airfare New York/Madrid
· Arrival and departure transfers
· 8 nights' Accommodation:
o Madrid 3 nights
o Porto 2 nights
o Fátima 1 night
o Lisbon 2 nights
· Breakfast daily
· Sightseeing of Madrid
· Guided visit of Porto
· Douro cruise and wine tasting
· Attend the procession of the candles in Fatima
· Tour of Lisbon and Belem
· Caceres walking tour
· Private driver-guide during the tour
· Deluxe A/C vehicle
· Entrance fees for sites visited
· All local taxes
Not included in tour
· Taxes related to international airfares
· Travel insurance
· Meals and beverages not mentioned under inclusions
· Guide service
· Porterage service
· Expenses of a personal nature
· Any item not mentioned as "Included"
· Tips to guides or drivers
· Other services not mentioned in the program
Hotels in your Tour
City
Hotel Name
Tripadvisor
First Class
Madrid
Courtyard Marriott Madrid Princesa
3.5
Riu Plaza España
4
Porto
Bessahotel Boavista
4.5
Fátima
Aurea Fátima
4.5
Estrela de Fátima
5
Regina
4
Lisbon
Lutécia
4
Vila Gale Opera
3.5
Boutique Hotels
Madrid
Catalonia Gran Via
4
Porto
NH Collection Porto Batalha
4.5
Fátima
Santa Maria
4.5
Lisbon
Tivoli Avenida de la Liberdade
4.5
Hotels will be confirmed at time of booking. Tourist Class hotels available on request.
Tour Pricing
Departure Dates
2-3 Pax
4-7 Pax
8 -11 Pax
12-17 Pax
Double
Single
Double
Single
Double
Single
Double
Single
First Class
Apr 3, 17
$3,189
$3,789
$2,369
$3,629
$1,699
$2,679
$1,545
$2,485
May 1, 8, 15, 22, 29
Jun 5, 12, 19, 26
$3,415
$4,015
$2,595
$3,855
$1,925
$2,905
$1,775
$2,709
Jul 10, 24
$3,475
$4,075
$2,655
$3,915
$1,985
$2,965
$1,829
$2,769
Aug 7, 21, 28
$3,469
$4,069
$2,649
$3,909
$1,979
$2,959
$1,829
$2,769
Sep 4, 11, 18, 25
$3,189
$3,789
$2,369
$3,629
$1,699
$2,679
$1,545
$2,485
Oct 2, 9, 16, 23
$3,469
$4,069
$2,649
$3,909
$1,979
$2,959
$1,829
$2,769
Nov 6
$3,559
$4,159
$2,739
$3,999
$2,069
$3,049
$1,915
$2,855
Dec 11, 18
$3,605
$4,205
$2,785
$4,045
$2,115
$3,095
$1,965
$2,899
Jan 8, 15
$3,189
$3,789
$2,369
$3,629
$1,699
$2,679
$1,545
$2,485
Feb 12
Mar 12, 19, 26
Boutique Hotels
Apr 3, 17
$3,339
$3,975
$2,519
$3,819
$1,849
$2,865
$1,699
$2,675
May 1, 8, 15, 22, 29
Jun 5, 12, 19, 26
$3,569
$4,199
$2,749
$4,045
$2,079
$3,095
$1,925
$2,899
Jul 10, 24
$3,629
$4,259
$2,805
$4,099
$2,139
$3,149
$1,985
$2,959
Aug 7, 21, 28
$3,685
$4,319
$2,859
$4,159
$2,195
$3,209
$2,039
$3,015
Sep 4, 11, 18, 25
$3,399
$4,035
$2,579
$3,875
$1,909
$2,925
$1,759
$2,729
Oct 2, 9, 16, 23
$3,685
$4,319
$2,859
$4,159
$2,195
$3,209
$2,039
$3,015
Nov 6
$3,709
$4,345
$2,889
$4,189
$2,219
$3,235
$2,069
$3,045
Dec 11, 18
$3,759
$4,389
$2,939
$4,235
$2,269
$3,285
$2,115
$3,089
Jan 8, 15
$3,339
$3,975
$2,519
$3,819
$1,849
$2,865
$1,699
$2,675
Feb 12
Mar 12, 19, 26
Add-ons available from all US gateways.
Prices are per person, are valid through March '23 and may change without notice. Tourist Class prices available upon request.
This program can be customized for individuals and groups.
Changes to this program may be requested by phone (1855-55-TOURS) or using the web FIT Quote Request
· Airfare
We also be glad to adjust the airfare from your gateway so you take advantage of our special discounted leisure fares
· Program
You may add or remove;
o Trip days
o Cities and sites
o Meals
· Other options
o The program was designed with private services, however, we may substitute shared sightseeing where available
o If you prefer deluxe services we may operate this program including private driver, private guide and concierge service.
· Quotation
Once we have designed the program the way you want we'll give you a quote within 2 business days.
Tour Code: SP05MAD22JT
Options
· Lunches and dinners can be arranged for individuals, families and groups at top restaurants or any restaurant requested by you.
· We can revise the itinerary to spend more time and provide more depth in those areas that you are interested on.
· Any other changes to the itinerary will be accommodated depending on the facilities available in the area.
· Private arrival and/or departure transfer
Group Quotations
· The options suggested in the itinerary will be quoted at time of booking
· If you wish to use these programs for your group or as the basis for a customized journey please either call us (1-855-55-TOURS or use the web Group Quote Request.
· In either case our specialists will work with to refine all the details and they will get you a quote with 2 business days. Quotes may be obtained for the air and land portions of just for the lad journey.
· Booking both air and land with us will represent savings for you because of our buying power and longtime relationship with the airlines.
· We will also may have the choice between regular fares and special leisure fares not available to the public.
Others
Special Options:
We offer these special options at the stops in your itinerary so you may complete your Spanish experience with typical events characteristic of each region.
City
Tour Name
Cost
Description
Madrid
Tapas Tour- Historical-gastronomic experience
$64
Porto
Visit to Guimaraães
$45
Lisbon
Fado Show with Dinner
$75
Monument of Cristo Rey, Calcilhas and Tagus ferry
$29
Sintra & Estoril Coast Tour
$58
Costs are per person and may change without notice