Morocco - The great South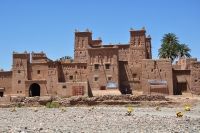 After breakfast at the hotel enjoy a panoramic sightseeing of Casablanca, renowned for the movie of the same name featuring Ingrid Bergman and Humphrey Bogart. The city is the economic capital of the country with more than four million inhabitants and combines its modern art nouveau or art deco buildings with thirteenth century old buildings dating from when it was known as Dar El Baida (the white's house or casa blanca in Spanish). See Mohammed V Square, Boulevard D'Anfa, Nôtre Dame Cathedral and the exterior of the impressive Great Mosque of Hassan II, where more than 3,000 craftsmen worked and surpassed only by Mecca in importance and size. Continue to Marrakech to visit of the city and its great historical past: Koutubia Mosque whose minaret of great beauty, standing 253 feet high and decorated in Mudejar style, is the symbol of the city, the exceptional Mausoleum of the 16-century princes Saadinos and the sumptuous Bahia Palace (The Precious) built in the 9-centure. by hundreds of artisans from Fez. Walk around the Medina (ancient city) and its souks where a thousand and one artisan products are offered to the visitor to end up in the fascinating world of the famous Djemaa El Fna Square (classified Heritage of Humanity by UNESCO) where storytellers, snake charmers, jugglers, dancers and other characters constitute an authentic "court of miracles". Dinner and accommodation at the hotel. You may arrange with your guide for an optional dinner with "Fantasia" show at the complex of "Chez Ali". [B/D]
After breakfast at the hotel enjoy a panoramic sightseeing of Casablanca, renowned for the movie of the same name featuring Ingrid Bergman and Humphrey Bogart. The city is the economic capital of the country with more than four million inhabitants and combines its modern art nouveau or art deco buildings with thirteenth century old buildings dating from when it was known as Dar El Baida (the white's house or casa blanca in Spanish). See Mohammed V Square, Boulevard D'Anfa, Nôtre Dame Cathedral and the exterior of the impressive Great Mosque of Hassan II, where more than 3,000 craftsmen worked and surpassed only by Mecca in importance and size. Continue to Marrakech to visit of the city and its great historical past: Koutubia Mosque whose minaret of great beauty, standing 253 feet high and decorated in Mudejar style, is the symbol of the city, the exceptional Mausoleum of the 16-century princes Saadinos and the sumptuous Bahia Palace (The Precious) built in the 9-centure. by hundreds of artisans from Fez. Walk around the Medina (ancient city) and its souks where a thousand and one artisan products are offered to the visitor to end up in the fascinating world of the famous Djemaa El Fna Square (classified Heritage of Humanity by UNESCO) where storytellers, snake charmers, jugglers, dancers and other characters constitute an authentic "court of miracles". Dinner and accommodation at the hotel. You may arrange with your guide for an optional dinner with "Fantasia" show at the complex of "Chez Ali". [B/D]
After breakfast at the hotel enjoy a panoramic sightseeing of Casablanca, renowned for the movie of the same name featuring Ingrid Bergman and Humphrey Bogart. The city is the economic capital of the country with more than four million inhabitants and combines its modern art nouveau or art deco buildings with thirteenth century old buildings dating from when it was known as Dar El Baida (the white's house or casa blanca in Spanish). See Mohammed V Square, Boulevard D'Anfa, Nôtre Dame Cathedral and the exterior of the impressive Great Mosque of Hassan II, where more than 3,000 craftsmen worked and surpassed only by Mecca in importance and size. Continue to Marrakech to visit of the city and its great historical past: Koutubia Mosque whose minaret of great beauty, standing 253 feet high and decorated in Mudejar style, is the symbol of the city, the exceptional Mausoleum of the 16-century princes Saadinos and the sumptuous Bahia Palace (The Precious) built in the 9-centure. by hundreds of artisans from Fez. Walk around the Medina (ancient city) and its souks where a thousand and one artisan products are offered to the visitor to end up in the fascinating world of the famous Djemaa El Fna Square (classified Heritage of Humanity by UNESCO) where storytellers, snake charmers, jugglers, dancers and other characters constitute an authentic "court of miracles". Dinner and accommodation at the hotel. You may arrange with your guide for an optional dinner with "Fantasia" show at the complex of "Chez Ali". [B/D]
Previous Post Morocco - The great South
One thought on "Morocco - The great South"
---
Germany - A Romantic Destination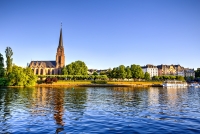 In the morning you board one of Germany's ICE trains and travel through beautiful landscape passing small villages to arrive, after 2 hours, at Nuremberg Main Train Station. Make your own way to the booked hotel. In early the afternoon present yourself at the Tourist Information Office at the Hauptmarkt for a walking tour of around 2 ½ hours and discover what the Old Town offers. Learn the history and insights on the castle, the fountains and wells, churches and art as well as the city's past and present. Rest of the day is free for own activities. Don't miss the opportunity to try the local specialty: The "Original Nuremberg Sausages". Overnight accommodation. [B]
Previous Post Germany - A Romantic Destination
One thought on "Germany - A Romantic Destination"
---