The Roots of Colombia
The Roots of Colombia
10 days – 9 nights
Bogota, Popayán, Silvia, San José de los Isnos, San Agustin, Tierradentro, Neiva, Villavieja, Tatacoa
Heritage, Archeology, Culture, History
This program is fully customizable and may be operated for individuals, pods and groups
Land of diversity par excellence, Colombia is the cradle of several indigenous communities which continue to perpetuate traditions dating back several millennia. Discover the Guambianos of Silvia who have survived the ages and upheavals and who are often the guardians of an exceptional nature. The number of Guambiano in Colombia is estimated at around 12,000 people. They speak Nasa Yuwe among themselves. The name of the Guambianos comes from the word "Guambia", meaning a traditional bag used by women to carry their weaving kit. Indeed, Guambianos women are known to excel in the art of weaving. The sale of their produce is the main source of income for the tribe. But the Guambianos are also famous for their agricultural work, following ancestral farming methods, but also for herding. Although the Guambiano people are quite reserved by nature, they are renowned for their kindness and their smile.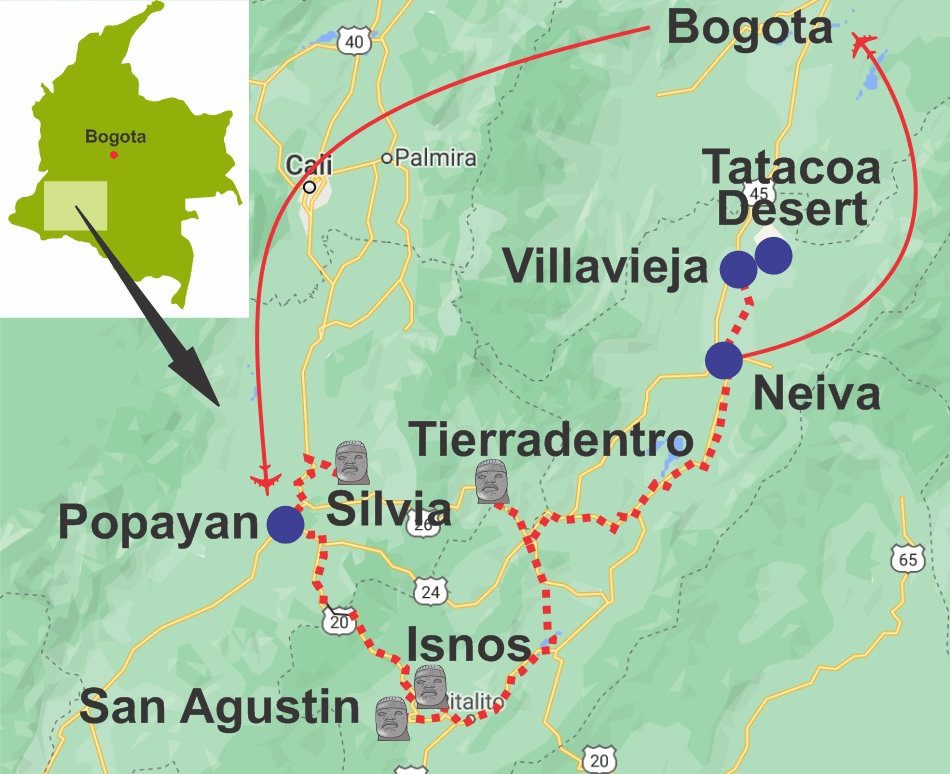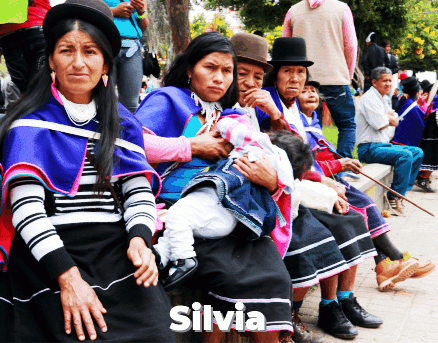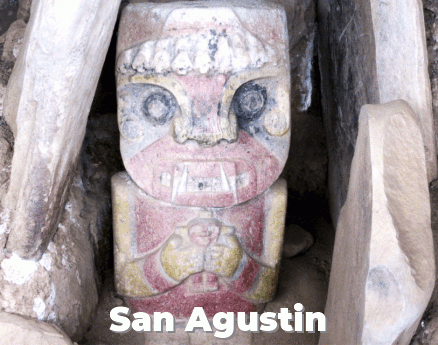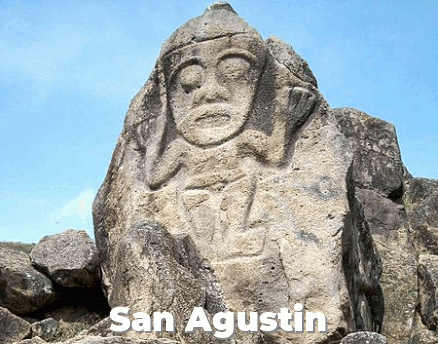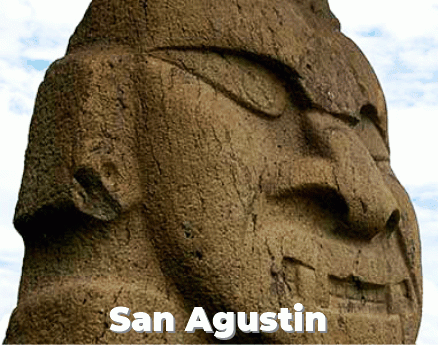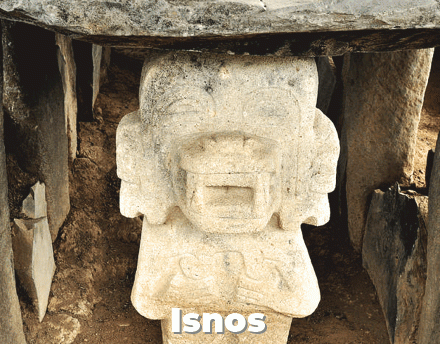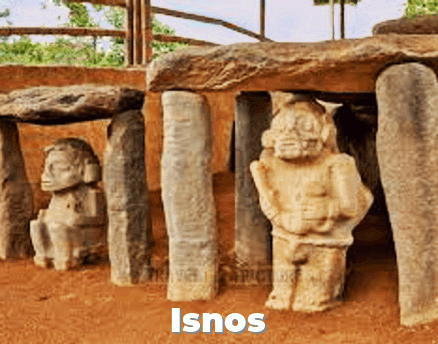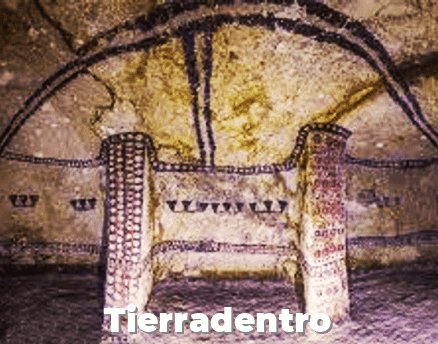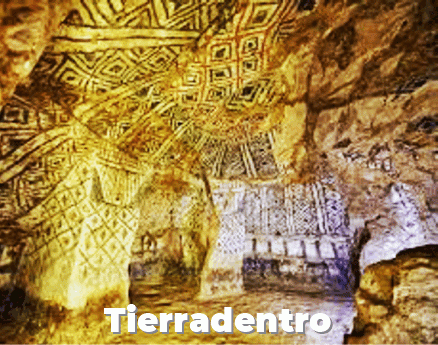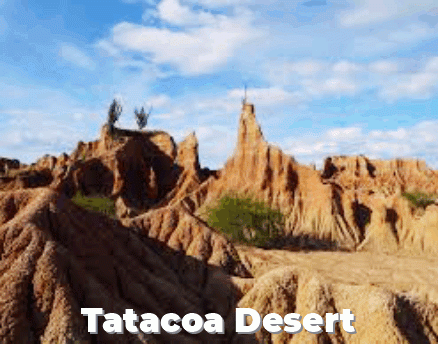 Tour includes
· Airfare Miami, Popayan//Neiva, Miami
· Arrival and departure transfers
· Accommodation at selected class hotels
o Bogota 1 night
o Popayán 2 nights
o San Augustin 2 nights
o Tierradentro 1 night
o Neiva – 2 nights
· Meals:
o Daily breakfast
o 1 lunch
o 5 dinners
· Tour of Popayán
· Visit Morro de Tulcán
· Visit Rincón Payanés
· Immersion in Guambiana culture in Silvia
· Obando
· Estrecho de Magdalena
· Visit San Agustin Archeological Park
· Visit San Agustin's other archeologic sites:
o La Pelota
o El Purutal
o El Tablon
o La Chaquira
· Visit Alto de los Idolos and Alto de las Piedras in Isnos
· Tour the World Heritage Site of Tierradentro
· Discover Neiva
· Excursion to Tatacoa DeserT
o Panoramic tour of Villavieja
o Visit the Observatory
o Tour the desert
· Tour escort during the tour
· Air-conditioned deluxe transportation
Not included in tour
· Airport taxes and fees
· Expenses of personal nature
· Travel insurance
· Optional tours
· Any services not included in the tour
· Tips to restaurants, guides and drivers
Hotels
City
Hotel Name
Tripadvisor
Superior Tourist Class
Bogota
Hotel de la Opera
4.5
Popayán
La Plazuela
4
San Agustin
Akawanka Lodge
4
Tierradentro
La Portada Hotel
4.5
Neiva
GHL Hotel Neiva
4,5
First Class
Bogota
Sofitel Victoria Regia
4.5
Popayán
Dann Monasterio
4
San Agustin
Monasterio San Agustin
5
Tierradentro*
La portada Hotel
4.5
Neiva*
GHL Hotel Neiva
4.5
Hotels will be confirmed at time of booking
*Best available
Prices
No. in Party
2-3 Pax
4-5 Pax
6-7 Pax

Superior Tourist Class<

Double
$3,005
$2,149
$1,989
Single
$3,445
$2,589
$2,425

First Class<

Double
$3,159
$2,305
$2,145
Single
$3,679
$2,819
$2,659
Prices are per person and may change without notice
Prices are minimum for low season. Please call for other periods
These programs can be customized for individuals and for groups
Changes to this program may be requested by phone (1855-55-TOURS) or using the web FIT Quote Request
· Airfare
We also be glad to add the necessary airfare from your gateway so you take advantage of our special discounted leisure fares
· Program
You may add or remove;
o Trip days
o Cities and sites
o Meals
· Other options
o The program was designed with private services, however, we may substitute shared sightseeing where available
o If you prefer deluxe services we may operate this program including private driver, private guide and concierge service.
· Quotation
Once we have designed the program the way you want we'll give you a quote within 2 business days.
Prices are minimum for low season. Please call for other periods
Tour Code: CO07PPN21PU
Options
· Lunches and dinners can be arranged for individuals, families and groups at top restaurants or any restaurant requested by you.
· We can revise the itinerary to spend more time and provide more depth in those areas that you are interested on.
· Any other changes to the itinerary will be accommodated depending on the facilities available in the area.
· Car can be upgraded upon request
Group Quotations
· If you wish to use these programs for your group or as the basis for a customized journey please either call us (1-855-55-TOURS or use the web Group Quote Request.
· In either case our specialists will work with to refine all the details and they will get you a quote with 2 business days. Quotes may be obtained for the air and land portions of just for the lad journey.
· Booking both air and land with us will represent savings for you because of our buying power and longtime relationship with the airlines.
We will also may have the choice between regular fares and special leisure fares not available to the public.